The essential characteristics of 3D printing technology determine that it can quickly, efficiently and accurately reproduce the three-dimensional computing model. According to the characteristics of the medical industry, 3D printing is "natural match" with the medical industry. In view of the inconsistent human structure and surgical scheme, 3D printing technology has been widely used in medical models, surgery, organ implantation, porcelain teeth and other fields.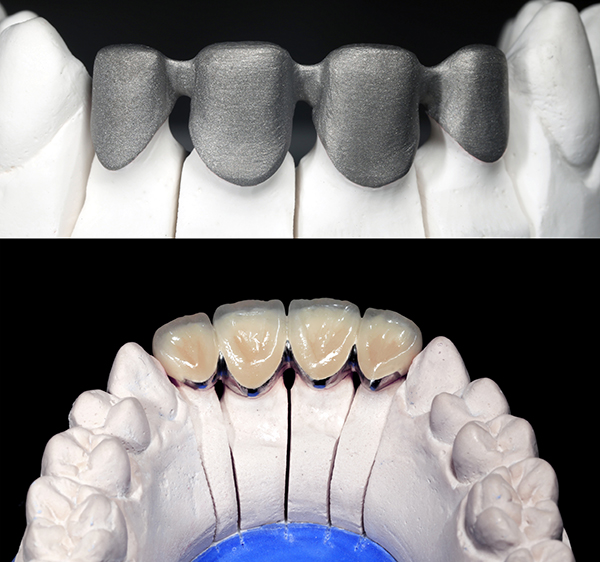 The biggest feature of 3D printing teeth is accuracy! Traditional dentures are usually manufactured by hand wax casting and embedding casting, which is totally manual operation. There are some problems such as difficult quality control and long-term safety risks. However, 3D printing does not need repeated moulding, and the printing error is very small. The occlusion degree of maxilla and mandible after implanting and repairing teeth is very consistent. There will be no lack of chewing power, and there will be no bubble trachoma problems caused by metal casting, which greatly reduces the high internal rework rate brought by traditional manufacturing methods. Because of the high precision of 3D printing of teeth, it is easier for doctors to install them. The patients can get higher biocompatibility and tightness after installing 3D printing teeth. The metal ion precipitation will be greatly reduced, and the probability of complications will be greatly reduced.
In summary, there are four major changes in denture manufacturing with 3D printing technology.
Improve work efficiency. Hagong three-dimensional HM-600 printing equipment has a printing speed of 150 pieces/6 hours. It can arrange two batches of printing every day, easily arrange the production process and progress, and ensure a long boot-up rate.
Reduce manufacturing costs. Traditional manual technology to manufacture metal crowns of denture requires more than 20 processes, such as impression, wax mould, casting channel installation, embedding and wax loss. Since the adoption of Harbin Engineering's three-dimensional printing technology, the need for multi-manual processes and traditional auxiliary materials has been reduced, and the manufacturing cost has been reduced.
Strengthen product quality. Hagong three-dimensional HM-600 printing equipment, its printed cobalt-chromium alloy denture indicators are excellent, its tensile strength of 1133 Mpa, density close to 100%, easy to achieve the denture product "beauty" and "quality" of common promotion. At the same time, the teeth produced by 3D printing have distinct and unique advantages in car gold links.
Promote brand awareness. The digitized processing mode greatly improves the market competitiveness of traditional denture processing enterprises. It replaces a large number of manual labor with new technologies of design, scanning, cutting or laser casting, and produces more exquisite and texture-oriented products with software and automatic processing equipment. It improves the brand value and enhances the enterprise. Industry brand awareness.
The miniature of the transformation from traditional denture processing industry to digital one is the inevitable trend of the development of dental industry. As an elite industry-level 3D printing application service enterprise, HAGONG 3D will adhere to the development concept of "intelligent manufacturing leading, innovative driving", rely on strong technical strength, actively promote the application of 3D printing technology in dental industry, provide the best cost-effective digital overall solution, and help dental industry enter the digital industry. The new era of dental medicine will bring benefits to the masses.