At the end of the year, IDC released 10 forward-looking predictions that could have an important impact on the future development of the 3D printing industry.
According to IDC, by 2022, 75% of the new 3D printers will support new materials such as gels and rubber, which will bring about new expenditures related to 3D printing products of $2 billion.
  Earlier this year, IDC updated its global semi-annual 3-D printing expenditure guidelines, predicting that the city's manufacturing expenditure for additional materials will be about $12 billion in 2018.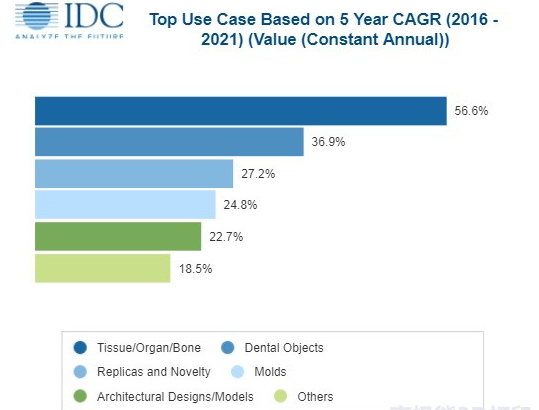 Future of 3D Printing Technology
IDC forecasts the development of global 3D printing industry from ten perspectives according to different themes:
1.By 2021, 40% of the 2,000 manufacturers will use the combination of 3D printing and intelligent machine tools to optimize material use, thereby reducing waste by at least 25%.
2. Despite the rapid development of 3D bioprinting technology, the patient-specific durable medical equipment will account for 80% of the commercial medical 3D printing market in 2023.

3. Under the influence and promotion of trade war and automation, more than 40% of manufacturers will promote 3D printing by 2021.
4, in the field of health care, by 2022, 75% of the new 3D printers will support new materials, such as gel and rubber, which will bring about 2 billion US dollars related new spending to 3D printing products.
5. By 2021, 30% of the world's electronic manufacturers will adopt 3D printing and 4D printing to meet the growing demand for scalable and flexible electronic products for Internet of Things applications.
6. By 2023, 50% of industrial and professional 3D printing will be affected by generation design, topology optimization and market software.
7. By 2020, the progress of 3D printing will promote more than 50% of the world's Aerospace Manufacturers to cooperate with industry standard development teams and formally use 3D printing in advanced manufacturing areas.
8. In software development, by 2024, 35% of 3D printer CAD files will be protected by block chains, because companies are looking for decentralized low-cost options to protect digital IP from theft and loss;
9. From the perspective of consumer market, by 2021 every major international footwear manufacturer will produce, market and sell nearly 100% 3D printed sports shoes series.
10. By 2022, 20% of manufacturers of 3D printer equipment will adopt the "as-a-service" model as the main way to reach customers and maximize their market potential.
From the forecasting above, it can be seen that in the next three to five years, 3D printing technology is expected to achieve greater development in many fields, such as intelligent manufacturing, medical care, electronic information, cutting-edge technology, consumer market, etc. It will usher in further breakthroughs in application, and the 3D printing industry will also usher in a period of great development.